More and more labels open their own stores, and have invest in external POS solutions, and connectors to their ERP systems. And more and more retailers are searching for an easy to use online POS, that meets todays requirements. IT's Perfect immediately thought: why does this have to be so hard? And thus, IT's Perfect launches an online POS solution. Of course, this POS is completely integrated with IT's Perfects online Fashion ERP. And, like all other solutions from IT's Perfect, it's available out-of-the-box.
The requirements for a Fashion POS system were no secret for the people from IT's Perfect. Based on It's Perfect Fashion, retail and IT experience a POS solutions was created that fully covers the needs of th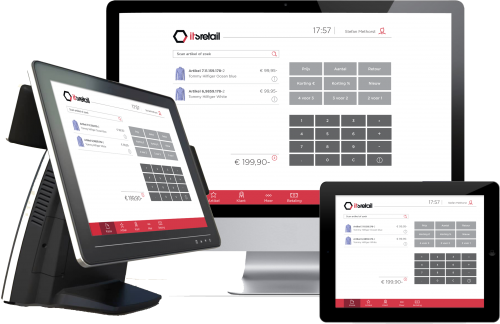 e fashion retail industry.
The POS enables the store to:
register as a sales person or a cashier
all discount types for your specific items you can think of
pay with debit and credit card, en cash gift cards
easily register returns, and easily look up the original transaction.
use a loyalty system, in combination with a customer card.
have full insight in an items inventory. in your store, in other stores, or in the main warehouse. By using your POS, or by using the additional smartphone app
easily do your inventory counts, by performing barcode scanning with the smartphone app.
As a label you are enabled to:
have full realtime insight in the stores' sales, anytime of the day.
easily setup new stores and/or a new POS directly from your ERP
let the system calculate replenishment proposals, and - after possible manual changes are made - let the system execute them.
IT's Perfect's POS is a 100% online solution, and is fully integrated with IT's Perfect's online Fashion ERP. IT's Perfects POS solution comes with an additial app for the smartphone (iOs and Android), and enables the store to easily do inventory counts, and to easily lookup the available inventory for a specific item. Easy to use, easy to setup, totally integrated, and highly efficient: the IT's Perfect standard.