Streamline your sales
You are selling through different channels: sales agents, distributors, directly to wholesale customers, and to your end-consumer in your own stores and through your webshop. IT's Perfect offers integrated solutions for all of these possibilities. And all channels result in an order within your ERP system, which you can handle centrally.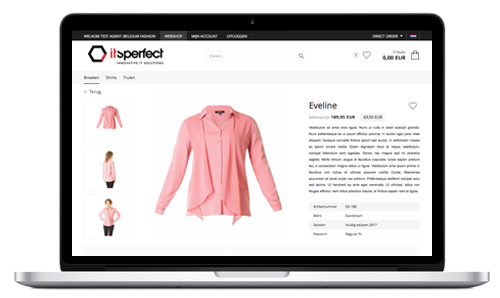 Wholesale
IT's Perfects integrated B2B webshop enables you to let your sales agents and distributors write direct and presales orders. Sales agents can also use IT's Perfects iPad App. You can also grant access to the B2B shop to your wholesale customers, so they can place their re-orders. Your aftersales department can finally take that holoday break.
Consumer
You are selling to your end-consumer in your own stores and through your webshop. Both types of sale are immediately registered in IT's Perfect. For a webshop order IT's Perfect immediately creates a pick: ordered before 00:00h, delivered tomorrow. Your stores performance can be monitored realtime, thanks to the integrated IT's Perfect POS.
Commissions
IT's Perfect automatically calculated the commissions for your agents. You decide the type of calculation: on sales, on invoiced turnover or on paid turnover. The agent can keep track of his performance himself as well, by viewing his overall sales statistics on the B2B portal.
Target versus realization
IT's Perfect enables you to create targets for the new season. These targets can be created per country, agent, customer group, item group, item, customer, period, etc. The IT's Perfect target module gives you full insight in the realization of your budget, realtime, presented as a percentage.
Contact us
Please fill out the enquiry form for more information and we'll get back to you soon
Kerklaan 9B, 1251 JR Laren
Wij gebruiken cookies
Deze website gebruikt cookies maar wij werken niet samen met derde partijen die uw gegevens misbruiken. Mocht u vragen hebben lees onze privacy voorwaarden, bel of mail ons.
Sluiten