Production
CMT, PDM & Communication
A firm grip on your production process
IT's Perfect gives you a full and firm grip on your production process. Whether it's about the availability of your materials or meeting the promised delivery date of your customer, IT's Perfect is there for you. And if IT's Perfect signalizes an upcoming problem, it notifies you by e-mail. Just to be sure, sometimes you just need a little help..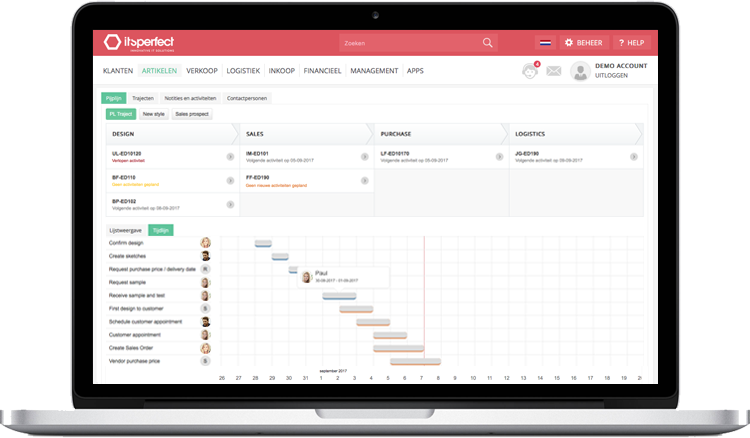 MRP
IT's Perfects MRP checks the availability of the materials you need to produce your outstanding orders. And is there a threat of a shortage? IT's Perfect creates your purchase orders for you. Be secure about your capacity, so your production process won't be disrupted.
Consumption
Once your ready made garment is received, the usage of materials need to be booked in order to maintain a correct material inventory position. IT's Perfect books your consumption for all the received orders at once, with a single click of a button.
Monitor your process
Each step in the production process needs to be finished in time in order to meet the promised delivery dates. Is there any delay? What are the consequences? Which orders are involved? Who is responsible? What can be done to speed up the process? IT's Perfect gives you full insight whit the workflow dashboard.
Notification
Is there still chance on delay, despite of all your efforts? IT's Perfect checks the progress. And if action is required, an e-mail is send to the responsible person, and to you. So you will always be completely filled in about all progress and possible delays.
Contact us
Please fill out the enquiry form for more information and we'll get back to you soon
Kerklaan 9B, 1251 JR Laren
Wij gebruiken cookies
Deze website gebruikt cookies maar wij werken niet samen met derde partijen die uw gegevens misbruiken. Mocht u vragen hebben lees onze privacy voorwaarden, bel of mail ons.
Sluiten