We are all known with the possibility to control our central heating system from our phone, or with the possibility to remotely switch the lights in your livingroom on and off, or to wirelessly stream our music to our audio system, or even to remotely close our curtains or open our garage doors. The internet of things is becoming a part of our daily lifes.
So how is this with Fashion? Crazy things like that our not happening in our branche, right? Wrong.. The smartwatch is just an early example of what can be achieved. A watch now vibrates when an incoming message asks your attention, and copies much of the functionality of yoru smartphone. And we aren't even really amazed by it.
Early initiatives in Fashion
But why stop there.. Although in most cases highly experimental, we see several early initiatives. A necklace that warns you for sunburn when exposed to the sun for too long? A prototype exists. A shirt with integrated leds and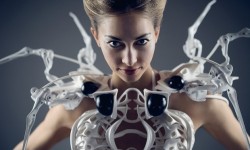 sensors to your skin that can change colour depending on your current mood? I wouldn't wear one, but hey… it exists! A jacket for cyclists which connects to google maps on your phone, with left and right pointing arrows on the back that lightup when you have to take a turn, warning the traffic around you? Yep, tested and taken into production. A T-shirt that shows your twitter messages on your chest? Indeed, they've done that already. A spider-like dress with robotics and led elements that can move it's tenticle like-arms, change colour, and light up brightly at will? For whatever reason: it's there! (by Intell and Danish artist Anouk Wipprecht, see picture)
Fashion's Ridiculous Potential
And these are just the crazy early ideas about what can be achieved with the Internet of Things related to fashion. What would this lead to? Just from the top of my head: my sneakers register the smell inside of them, and they walk outside by themselves for a night in the fresh air? My shirt noticed that the white in my colar is not that white anymore, and when trying to wear it for a working day, it refuses to let you close the buttons? Wash me first? The sweater that automatically turns into bright yellow when I step out of my car on a highway? And what if we combine this all to nano technolgie: the clothing that can adapt all colours wanted, and that will always fit, just by adjusting itself to your size?
Farfetched? Maybe so. But maybe not, who can tell. What we can tell is that we are now in the 'fashion and the internet of things'-gadget phase. From this phase, really practical use will evolve. Like the jogging shirt that registers your heartbeat and lightly vibrates in the sleeve when you pass your max, because you still have five miles to go. Things like this are coming our way… And it's up to us to adapt it in our products. After all, if that one really practical use is discovered, we are all going to want it. Even if we don't know yet. Remember asking yourself the question: an iPad, what on earth would I need that for?
Product Design
So your product designers might want to concentrate on technical innovation every now and then.. Just a bit, just to be sure you don't miss out! And thus, you might be expecting a littlebit more from your product designers and product managers in the future.
The design an production departments and innovation… now there's not the best match in the history of fashion. The experience learns that adaption of new technology in logistics and sales is much stronger than in our fashion design departments. Do you still have a problem when one of your product managers is on a holiday, and you can't review some important information because it's in his or her emailbox? And do you still have an even bigger problem when someone accidently overwrites a couple of rows in your holy design and production sheet, also known as a centrally saved and ridiculously large and complex Excelsheet? And do you also have a problem when everybody already knew the date for the first sample receival would not be met, but you only found out at the exact day you should have received them?
At least use what's available today!
Not all innovations are gadgets. At all. The internal processes described above could easily be covered by choosing the right online business software: registration of all your PDM and sample data, the possiblity to register all step in the design - and production process, the possibility to monitor these steps in your system, and immediately see if a date is not met (and immediately act accordingly), centrally store all communication with your production location, available for everyone to consult, and even grant the production site access to your data, and allowing them to change a restricted set of data by themselves..
We stare with wonder to the innovations around us. And then we look down, we open outlook and excel and continue with what we were doing the past 10 years.
Want to stop staring? Contact IT's Perfect, and hear what is possible today! The future is now! And IT's Perfect!
Paul Jonker
www.itsperfect-solutions.com
Join us the 9th of June, for NextGeneration, a fashion networking event!
http://www.itsperfect-solutions.com/nieuws/NextGen